By Kari Chisholm: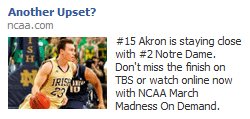 One thing we've learned is that the most effective online ads - especially on Facebook - are timely, news-driven ads.

For example, "Health care matters. Support Congressman Jones" is much less effective than "Congressman Jones just voted in favor of health care. Support him now!"

As I write, the first (er, second) round of the NCAA Tournament is underway - and Notre Dame is leading Akron by ten points, with 8 minutes to go. And the NCAA is running ads on Facebook that read:
#15 Akron is staying close with #2 Notre Dame. Don't miss the finish on TBS or watch online now with NCAA March Madness On Demand.
And the ad links directly to the online video stream of the game. Now that's impressive ad planning and production.
Posted by Kari Chisholm on March 18, 2011 in advertising, facebook | See full archives