By Kari Chisholm: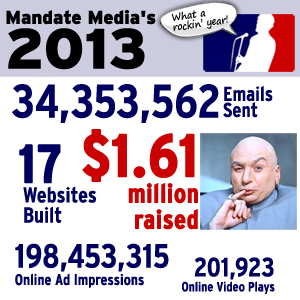 At some point, every political consultant gets asked the question by friends and loved ones: "what the heck do you do all day, anyhow?"
Fair question.
For us, we spent our days (and more than a few late nights) in 2013 helping clients expand their reach online.

Our world has changed – no longer are digital consultants just build-a-website guys. Now, we work every day to help our clients grow their email lists and social media fan bases, figuring out how to engage those audiences in effective action, and raising money. Big piles of money.
After all, campaigns with effective digital programs are now raising as much as a third of their funds from grassroots supporters online – a critical development in the age of unfettered SuperPACs and corporate political spending.
This year alone we built 17 websites, sent over 34 million emails and produced nearly 200 million online ad impressions for our clients. And it all resulted in over $1.61 million raised – in an off-year. It took some work, but we don't mind breaking a sweat when we're changing the world.

With a big election year ahead, prospects for 2014 are looking even bigger. We're excited, and I want to thank you for your friendship and support.

Please stay in touch, and let us know how we can help you change the world. We're looking forward to more victories in 2014!
Posted by Kari Chisholm on January 12, 2014 | See full archives