We believe that all people — no matter their race, gender, religion, disability, orientation, gender identity, immigrant status — have a place in our democracy. But far too often and for far too long, far too many people have been excluded from the halls of power.
Politics is the art of seeking and exercising power in order to represent and serve people in our democracy. Our leaders must reflect and represent the full diversity of our country. Which means that those of us who work to elect those leaders must also reflect and represent that diversity.
This is not easy. And it's not often comfortable to talk about it. But that's why we strive to center it in our client recruitment work and our hiring processes. We don't always succeed. But we keep at it.
We also believe that transparency leads to accountability. So, we are publishing the following statistics as part of our effort to hold ourselves accountable.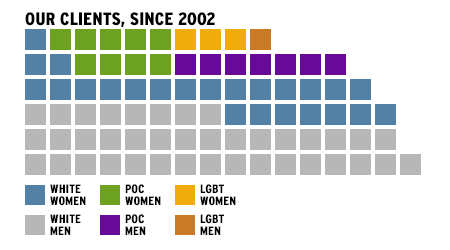 Since 2002, the 83 candidates with whom we've engaged in our strategic practice have been 43.4% women, 19.3% people of color, 4.8% LGBT people. Combined, less than half (47.0%) have been straight white cis-gender men, while 53.0% have been candidates of diversity.
All time, our full staff has been 44% straight white cis-gender men and 56% women, people of color, or LGBT people. Our senior staff has been 29% straight white cis-gender men and 71% women, people of color, or LGBT people.
Statistics, of course, don't tell the whole story. We're working every day to bring more diverse voices to the table, and to make sure all voices are heard. Our democracy demands no less.
Statistics last updated May 2, 2022.